Display, control & automate TotalMix Control Room.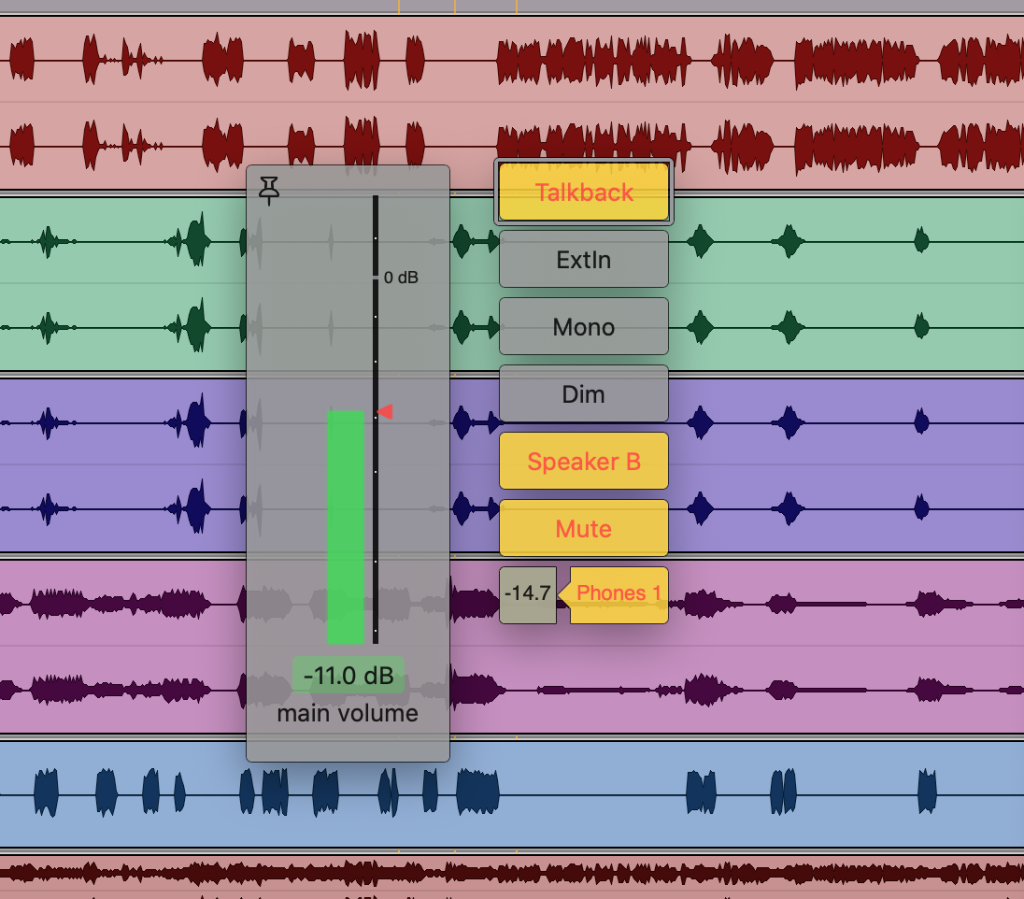 Streamline RME TotalMix FX Control Room to your needs. ControlPilot puts audio monitoring at your fingertips:
Display
ControlPilot displays changes of Control Room: A big volume bar for Main, Speaker B and Phones and indicators for all Mutes, Dim, Mono, Talkback, External In, Mute FX, Mute Groups.
A head-up display (HUD) for the Control Room of RME TotalMix. The HUD is not clickable with adjustable transparency and timeout. And if it's still in your way, it can fade while you hover over with your mouse pointer.
Control
ControlPilot has a configurable global keyboard shortcuts for volumes, mutes and many more. Now also for TotalMix Snapshots 1 – 8.
Automate
ControlPilot has an Automatic Talkback feature, it follows DAW Transport state: STOP – Talkback open, PLAY/REC – Talkback closed. Keep your hands free for the real work!
Mute-Groups can be automatically switched to follow DAW Transport state. Set any combination of STOP – PLAY – REC to trigger your Mute-Group of choice. E.g. control or automate a listenback mic or zero-latency monitoring!
Whether you operate audio monitoring control directly from Totalmix's window, from an ARC USB Controller, from your RME Interface's buttons and wheel, from any MIDI-Controller, Streamdeck, or from ControlPilot's own keyboard shortcuts, you want to see immediately what you do. Yes, you could leave TotalMix's window open and visible, but that will use a lot of screen space.
💡 ControlPilot's HUD display never gets in your way. It shows …
what you need to see,
when you need to see it,
without taking keyboard focus from your app,
and it's configurable to your your needs.
Here's a short screencast video that shows how ControlPilot looks in action:
NEW: HUD Volume focus.
Display, control & automate TotalMix Control Room.
Get ControlPilot today!
System requirements:
Apple Silicon: macOS 11 to macOS 13

Intel:

macOS 10.15

to macOS 13

Minimum TotalMix version 1.80 is recommended.

You still have questions? Read the FAQ or contact me!
Here's the Release History.
It's all about sound and music.